Winning the auction is an accomplishment in and of itself, and since tax deeds are purchased in a lump sum, sometimes cash is not readily available for expensive improvements. So how can you achieve the highest resale possible?
If your tax deed is not vacant land, and there is an existing property, there are many things you can do on a budget to get a better price when you sell! Be it condo, townhome, single family home or even a multi-family property or commercial property, check out these budget-friendly options for increasing your profit line!
Peel and stick tile for floors and backsplash
Removing existing tile can be an expensive and time-consuming project. Laying the new tile is an added expense, and often requires hiring a contractor to cut the tile and lay it properly. If you're on a tight budget for new flooring, a peel and stick tile product can be a great option, especially for a smaller kitchen or bathroom.
Peel and stick tile comes in a variety of options and varies in its' water resistance. Most are easy to cut yourself with a boxcutter. It can be laid over an existing tile product, terrazzo, or even wood flooring if it is level.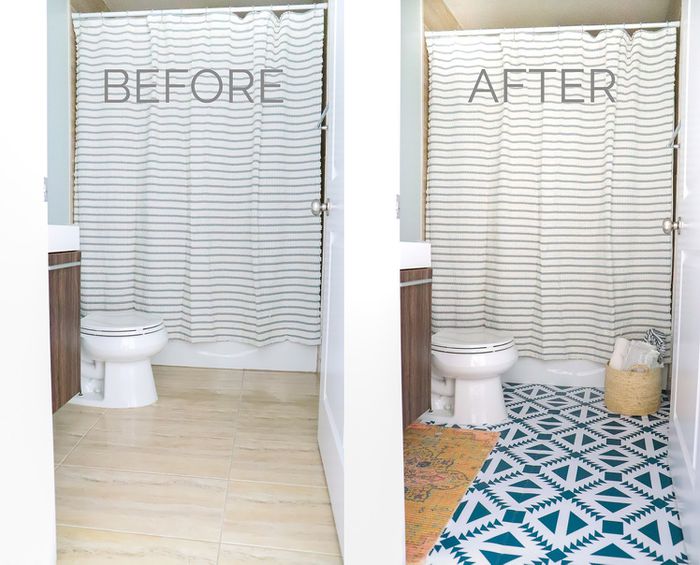 Peel and stick products can also be used for a kitchen or bathroom backsplash, or for an accent wall! Some can even be grouted for increased water resistance in wet areas. While some peel and stick tiles are flat and simple designs, some come with a tile-like material on an adhesive backing, or a textured design that simulates the look of other backsplash tile options.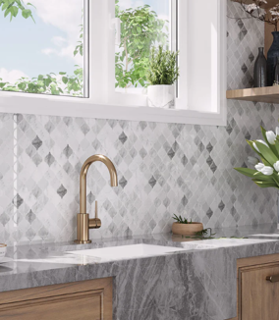 Paint walls and trim
A fresh coat of paint can be a big change for a space. The right hue can help a room feel more spacious and open, and help to hide wear from prior occupants.
Painting the trim and baseboards can be a helpful tool and let you avoid the need for replacing them if they are still in reasonably good shape.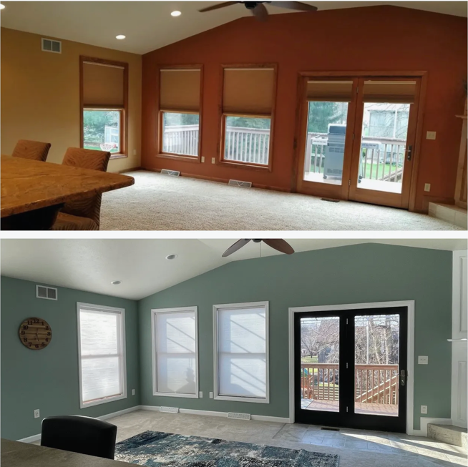 You can even paint textured wallpaper, which many older homes are notorious for! If you are planning to do so, a primer is recommended.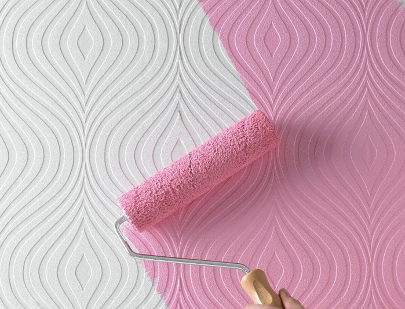 Refinish and paint cabinets
Kitchen remodels are excellent resale boosts, but they are rarely budget friendly, even for a smaller kitchen. One rising cost that has impacted these remodels is the cost of cabinetry, where even the lower end options for a small space can be several thousand dollars.
If the cabinets are a wood product, and in reasonably good structural condition, you may be able to save a large amount of money by refinishing or painting the existing cabinets.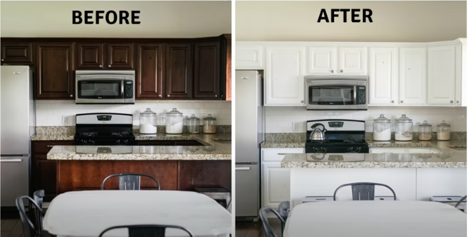 Removing the hardware and replacing it with newer and updated styles can not only improve the look, but the function of the repainted cabinets and doors.
There are several brands of cabinet paint for DIY'ers to utilize, and even some for the non-wood varieties! These products vary in their requirements for sanding and stripping the cabinets. For a higher end property both could be advantageous in gaining the required look and feel for the new buyers.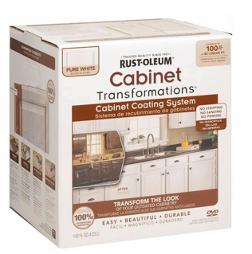 To finish the look of your kitchen, consider visiting a used/scratch and dent appliance store to put together a stainless appliance package. These stores often have a variety of lightly used, slightly cosmetically imperfect or open box appliances available, and some even offer financing and most will also deliver. Look around in your area for a location near you!
Update your lighting
If you are or have an electrician available (always use caution when working with electrical components), replacing the existing lighting in a property can be especially helpful in not only updating the appearance, but providing the right light to showcase the space.
Many older homes feature a warm or low brightness lighting throughout the home. A cooler tone or brighter bulb can update the look and bring out the colors in more modern palettes.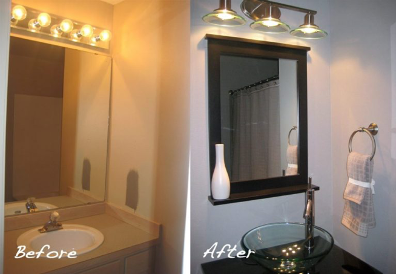 A brighter bulb can also highlight any accents or updates you've made throughout your property.
Basic lighting replacements like an existing ceiling light or vanity lighting is usually a fairly easy process. Replacing older kitchen tube bulbs with high hat lighting is also a relatively straightforward process, and an electrician will be able to utilize the current lighting connections. Some patching around the lighting housing may be necessary.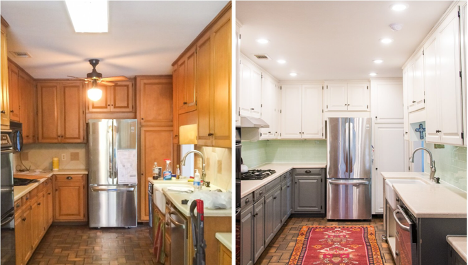 Keep in mind adding some types of recessed lighting may require space above the ceiling for the wiring. Some condos and townhomes may not have this space available, so 'dropping the ceiling' would be required. This is a more involved process that a contractor can assist with.
Exterior updates
Improving the exterior of the property has become more than just a 'curb appeal' tool. Since the pandemic, buyers are very aware of the outdoor spaces a home provides. While a full landscaping overhaul can be pricey, there are some budget-friendly projects that can be beneficial for resale.
Adding some simple landscaping, like a few plants under the windows and on either side of the front or slider doors can do a nice job of dressing up the home. Mulch or stones around the plants can help to finish the look.
Adding LED solar lighting around pathways and the corners of a home can cast an alluring upward light on the home if buyers drive by after hours, and won't impact the utility bills. It also adds safety features for those walking around the property if there are showings at night. Fencing is another great area to add solar lighting.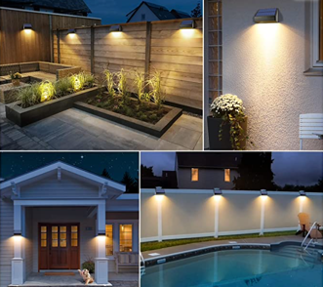 If you have a smaller home, a multi-family property, or even a townhome, building a deck can be a great way to improve the outdoor areas without a high cost. Even scrap wood like fence scraps can be put together to create a deck!
Try deck tiles to finish the look and make the deck more even and easier to place furniture on. For extra safety, have a handyman create a low cost railing! The sides of the deck are another great place to add plants or rocks.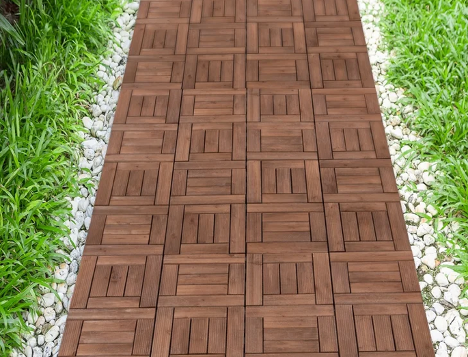 The ultimate low cost improvement: certify clear title!
When it comes to tax deed properties, perhaps the best improvement you can make to your property is the ability to sell the property with a warranty deed (with no exceptions or resale restrictions). This is a substantially better alternative to a quit claim deed sale, where the buyer must take on risks and forgo title insurance (and cannot obtain a mortgage), or selling with a warranty deed that has limitations or restrictions on future sales or building.
Since the tax deed process creates a cloud on the title, action must be taken to quiet the title, or instead, certify insurable title without court action. With a Clear to Sell certificate, you can achieve fully insurable title and sell with a warranty deed without exception or restriction on resales. This means a vacant lot can be built upon by a buyer and sold at whatever fair market price that newly improved lot achieves. This also means if you intend to hold your tax deed, you can secure a mortgage on the property, or simply hold an owner's title policy and protect your investment against potential fraud.
Our research-driven process is accepted by four of the largest underwriters in Florida, and we have been serving all 67 counties in the state since 2014. Plus, we can do the work on your tax deed while you improve the property, making you ready for a quick sale once all of the upgrades are complete!
So get the tools out and make your plans, but leave the title's heavy lifting to us!

Latest posts in the same category
Title issues can be a significant concern for anyone interested in purchasing a tax deed property in Florida. With a four-year statute of limitations not . . .
Read more
Are you considering investing in Florida tax deeds? We don't only offer tax deed title certification; we're also consistently gathering Florida-specific information, statistics and legal . . .
Read more